High Flavor, Low Labor: Reinventing Weeknight Cooking
Sample Recipes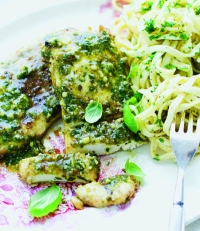 This one is named for the head of garlic used in the pesto, which doubles as marinade and sauce. This is a great dish to prepare in the morning and let marinate all day.
The pesto can even be made a day ahead. Serve the chicken with plenty of pasta or rice to sop up the sauce.
If you have the time and own a mortar and pestle, use it instead of the food processor to make the pesto. The flavor is better, and bashing garlic is oddly therapeutic.
1 small head garlic (about 8 cloves), peeled
1⁄2 cup extra-virgin olive oil, plus 2 tablespoons for frying
1 cup packed fresh basil leaves
1 teaspoon kosher salt
1⁄8 teaspoon ground black pepper
2 tablespoons balsamic vinegar
1⁄2 cup grated Parmesan cheese
Pinch red pepper flakes
11⁄2 pounds chicken breasts
1 cup all-purpose flour
4 tablespoons (1⁄2 stick) butter
In a food processor, combine the garlic, 1⁄2 cup of olive oil, basil, salt, black pepper, vinegar, Parmesan, and red pepper flakes. Pulse until chunky smooth.
Transfer half of the pesto to a glass or stainless‐steel baking dish. Cover the remaining pesto and refrigerate until ready to serve.
One at a time, lay each breast on the counter and carefully slice across the center horizontally to create 2 thin halves. Place each half between sheets of plastic wrap and use a meat mallet, rolling pin, or heavy skillet to pound it to an even cutlet about 1⁄4 inch thick.
Place the chicken in the baking dish with the pesto, turning it to coat. Cover and refrigerate it for at least 30 minutes, or up to 8 hours.
When ready to cook, remove the reserved pesto from the refrigerator and let it come to room temperature.
Place the flour in a wide, shallow bowl. Use a fork to lift each piece of chicken from the marinade and dredge it through the flour, lightly coating both sides.
In a large skillet over medium‐high heat, combine the butter and remaining 2 tablespoons olive oil. Heat until the butter is melted and sizzling.
Several pieces at a time, fry the chicken until lightly browned, 2 to 3 minutes. Turn and fry for another 2 to 3 minutes, or until cooked through. Repeat with remaining chicken.
To serve, drizzle the chicken with the reserved pesto.
> How long? 1 hour (20 minutes active)
> How much? 4 servings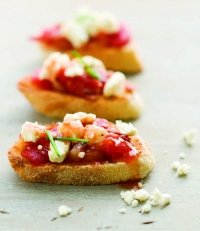 This recipe takes slightly longer than most of my other starters. But everyone who has tried it insisted I include it in the book. The jam has a brilliant blend of savory, sweet, and tangy flavors that go so nicely with the salty feta and crusty bread. It's worth the extra time. The jam can be made ahead and refrigerated for several days or frozen for several months.
Thaw frozen jam overnight in the refrigerator, then heat it briefly on the stove before using it.
The recipe also intentionally makes a bit more jam than you'll need for the crostini. Try spreading the extra on a bagel with cream cheese or on a grilled cheese sandwich.
1⁄2 pound smoked bacon
28-ounce can diced tomatoes, drained
1 apple, peeled, cored, and diced
1 small yellow onion, diced
1 cup sugar
21⁄2 tablespoons cider vinegar
11⁄2 teaspoons salt
1⁄4 teaspoon ground black pepper
12-inch baguette, thinly sliced and toasted (about 18 slices)
8-ounce block feta cheese, cut into thin slices roughly the size
of the baguette slices, or crumbled
In a large skillet over medium-high heat, cook the bacon until it is just browned, about 5 minutes. Transfer the bacon to paper towels to drain excess fat. Crumble or cut it into small pieces.
In a large saucepan, combine the tomatoes, apple, onion, sugar, vinegar, salt, pepper, and bacon. Bring to a rapid boil and cook, stirring often, for 12 minutes.
Remove the pan from the heat and set aside for 5 minutes.
Arrange the baguette slices on a serving platter, then top with feta and a dollop of warm tomato jam.
> How long? 30 minutes
> How much? 18 Crostini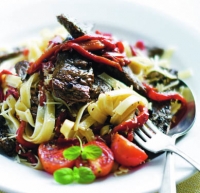 I love the sharp bite of freshly ground peppercorns, especially on tender sirloin. But when you load on the pepper, it's important to balance the flavor with something sweet.
In this case, that role falls to balsamic vinegar, which is sweetly acidic. For good measure, I also toss in a bit of hot sauce and sugar.
1⁄4 cup balsamic vinegar
2 tablespoons olive oil
1 tablespoon sriracha chili sauce (or other hot sauce)
1⁄2 teaspoon kosher salt
1 tablespoon black peppercorns (or a blend), roughly crushed
1 tablespoon sugar
11⁄4 pounds sirloin steak, trimmed of fat and cut into thin
strips
3 cloves garlic, minced
12-ounce jar roasted red peppers, cut into thin strips
Half of a 7-ounce jar julienne-cut sun-dried tomatoes
16 ounces fettuccine pasta
2 tablespoons canola or vegetable oil
1 cup grated Parmesan cheese, plus extra for shaving
In a medium bowl, whisk together the vinegar, olive oil, sriracha, salt, peppercorns, and sugar. Add the steak, mixing to coat well. Set aside to marinate for 15 minutes.
In a second medium bowl, combine the garlic, red peppers, and sun-dried tomatoes. Mix well, then set aside.
Bring a large pot of salted water to a boil. Add the pasta and cook according to package directions.
When the pasta is nearly finished, in a large sauté pan over medium-high, heat the canola oil. When the oil is hot, remove the steak from the marinade (discard the marinade) and, working in batches if necessary, cook the strips for 1 to 11⁄2 minutes per side.
Transfer the steak to a plate and cover it with foil. Return the pan to the heat and add the red pepper and sun‐dried tomato mixture. Toss until heated through.
When the pasta is cooked, drain and add it to the pepper mixture. Toss well, then add the grated cheese and toss until melted. Serve topped with steak strips and additional shavings of Parmesan.
> How long? 30 minutes
> How many? 4 servings
Login or register to add your own reviews from this cookbook.