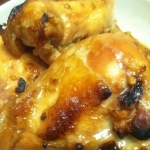 Indonesian Ginger Chicken
Page 125

View photos
(1)
Tags: chicken
Recipe Reviews
This was a simple recipe, and the ingredients are staples in my pantry, so it's easy to make without a special shopping trip. I was able to reduce the amounts down to two large bone-in breasts with no problems. My husband liked this a lot and thought it had a subtly sweet flavor. I would definitely make this again.
(edited 8th October 2012) (0) comment (1) useful
My boys devoured this chicken and thought it should get a rating of 10 (on a 5 point scale). It was slightly sweet with a nice strong ginger taste that was not overpowering. I was excited to make this with my substitute soy sauce. I am not sure why she specifies "good honey". I don't cook with my best honey, but I don't have any "bad" honey either. The marinade did not soak into all the chicken and I am not sure if that wasn't because I split it into two pans. As mentioned previously an easy recipe that can easily be made up ahead.
I'm giving this five stars because, for what it is, it's perfect. It's a dinner party/caterer's dream---you can make a large quantity;it's all in one baking dish; it's very simple; it freezes and/or reheats beautifully. And it tastes quite delicious. I personally would want more spice--but that is easily added. It's also a pretty dish--the sauce is deep dark caramel, the chicken skin browns and crisps to an attractive mahogany. Like the other recipes I've tried, the yield is enormous--2 whole chickens to serve 4 - 6 people seems like an awful lot to me.
This is a really simple dish that requires just a few ingredients. It marinates overnight and then just bakes the day you serve it. It's good hot or at room temperature. I like serving it with the Herbed Basmati Rice from BC at Home. It's also good with the Roasted Carrots from BCC.
Login or register to add your own review of this recipe.