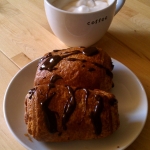 Chocolate Croissants
Page 517
Cuisine: French | Course Type: Breakfast/Brunch

View photos
(1)
Tags:
Recipe Reviews
I had wanted to make these for a long time (the picture of them is what made me buy the book in the first place), but never got around to taking the time to prepare the puff pastry (p. 515). But finally I overcame my laziness, and can say that the preparation time is well worth it. These croissants look and taste as good as (if not better) than the ones you find at the bakery.

One suggestion I would make is to omit the chocolate glaze at the end - it really makes them extremely heavy (this is subjective of course).

I made the full recipe for the dough, using 1/4 of it right away and freezing the rest. The dough works well out of the freezer for the first few weeks, but by the third week the dough doesn't puff up as much (leading to good, but not great croissants).
Login or register to add your own review of this recipe.