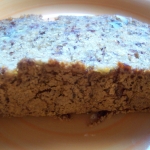 Flour's Famous Banana Bread
Page 66
Cuisine: North American | Course Type: Breakfast/Brunch

View photos
(2)
Tags:
Single Review Display
I am a little late to the game on this one, but better late than never. This was super moist, very easy and most importantly delicious! I have been making a lot of banana bread lately and this one maybe the simplest and the best! I did have to sub yogurt for the creme fraiche/sour cream but otherwise made as written. I was tempted (again) to add more spice but didn't miss it in the end. Mine took exactly 1 hour.
(edited 2nd June 2020) (0) comment (0) useful
Login or register to add your own review of this recipe.