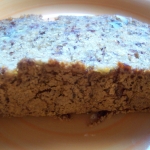 Flour's Famous Banana Bread
Page 66
Cuisine: North American | Course Type: Breakfast/Brunch

View photos
(2)
Tags:
Recipe Reviews
I am a little late to the game on this one, but better late than never. This was super moist, very easy and most importantly delicious! I have been making a lot of banana bread lately and this one maybe the simplest and the best! I did have to sub yogurt for the creme fraiche/sour cream but otherwise made as written. I was tempted (again) to add more spice but didn't miss it in the end. Mine took exactly 1 hour.
(edited 2nd June 2020) (0) comment (0) useful
I agree with all reviewers,very moist with great banana flavor.My new favorite banana bread.
This really is the best banana bread recipe I've ever made or eaten....and there have been many over the years. It's moist, not too dense, and it actually tastes like banana!

Apart from whipping the eggs and sugar at the start, it follows the usual muffin/quick bread mixing method of folding wet and dry ingredients together. I've made this recipe successfully a number of times as written so it was time to tweak it to make it a little healthier. It already uses a lot of bananas, oil instead of butter and 2 eggs (which isn't too bad), so I decided to focus on the fibre content and replace half the flour with the same volume of whole wheat pastry flour.

I had excellent results with this substitution....the loaf was still moist and tender and not crumbly as whole wheat pastry flour will often make a cake, and with the predominant flavour being banana, the whole wheat flour flavour wasn't discernible at all.

My son requested that I make this batch with chocolate chips instead of walnuts - so much for making it healthier! I thought it was too sweet but I was clearly in the minority as family and friends devoured it.

This is an excellent banana bread and worth the effort of toasting the walnuts and dirtying up a few bowls. I have one complaint about this book though and that's the fact the print is so tiny, especially in the ingredient list. I misread the amount of bananas as 1 1/2 cup instead of 1 1/3 and since my 3 bananas made 1 1/2 cups after being mashed I used that. This caused the cake to overflow a tiny bit in the oven but the texture and taste of the bread was still excellent. It also took the full 1 hour 15 minutes to get completely done. I used sour cream since creme fraiche is hard to find around here and that worked perfectly. Now I have my snacks for work ready for this week. Yum!
This is a straightforward banana bread recipe. It's easy to put together, and using canola oil instead of butter means that it will stay moist for days (if it doesn't get eaten). It really does improve the next day- both in flavour and texture, so if you can restrain yourself from eating it warm from the oven, you'll be rewarded for your patience with a fantastic banana bread the next day.

The only reason I gave it 4* instead of 5* is because it uses an electric mixer, and I have another recipe for banana bread that I make by hand with a whisk much more easily.

Notes:
1) be sure that your bananas are really ripe (lots of black spots on the skin).
2) The nuts should be toasted, as directed, but you could substitute pecans if you prefer them to walnuts (I did).
3) I used sour cream instead of crème fraîche and it worked well
4) I suggest doubling the recipe and making 2 loaves and freezing one- it freezes very well (as described in the recipe).
Login or register to add your own review of this recipe.