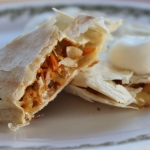 Sweet Potato Quesadillas
Page 272
Cuisine: Mexican | Course Type: Main Courses

View photos
(1)
Tags:
Recipe Reviews
Delicous, nutritions, and fast. If your family loves sweet potatoes, like mine does, this will be a big hit.

I used a combination of yams and sweet potatoes, and Dubliner for the cheese (white sharp cheddar-like).

The sour cream was an excellent counterpoint. This dish combines spicy, sweet, and sour, crunchy and soft.
Two voted this should be a 5, and 2 for a rating of 4. I thought this wasn't quite as good as the corn quesadilla I reviewed from this same recipe, so gave it a 4.
Login or register to add your own review of this recipe.