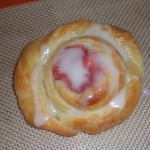 Danish Pastry
Page 191

View photos
(5)
Tags:
Recipe Reviews
I don't think I have ever really had good Danish before. Not many bakeries really make Danish and if they do, they usually aren't my top choice. I usually prefer a Boston cream donut or a scone or croissant.

I had the same difficulty with rolling out and shaping the dough. Since the laminate dough used in croissants is also used in Danish, please read the base croissants review to read about some of the difficulties with the dough.

Once I the dough was rolled out properly, it was fairly easy to rollup the Danish in the most basic shape. I chose the Schnecken version since it was my first time.

The finished product was delicious. I couldn't believe how good they were. I had never tasted a Danish so yummy. They were so light and perfect.

Please read the review of cream cheese filling, fruit filling, lemon curd and cinnamon butter crumb filling for comments on each type of filling.

Login or register to add your own review of this recipe.