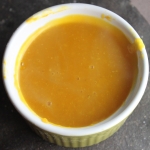 Currry-Kuri Squash Soup
| Course Type: Soups and Stews

View photos
(1)
Tags: ginger
Recipe Reviews
One of my favourite soups ever. The combination of squash, sweet potato and orange with the curry paste and ginger is excellent. I used the recipe as a basic guide and made several changes. I used a butternut squash from my garden and replaced the water with a homemade light chicken stock. I used madras curry paste instead of the curry powder and also added a tablespoon of dry sherry at the end. This made a delicious soup that froze well. Everyone loved this soup!
This might be a perfect squash soup. A good ginger/curry flavor (on the mild side), and balanced with a bit of orange juice and nutmeg.

I had a lovely Kuri squash purchased at the final farmers market of the season, and searched widely to find the right recipe for it. Here, the squash is quartered, roasted (with onion and garlic), then roasted. The soup is prepared by blending these with minced fresh ginger, curry powder, etc. The splash of orange juice at the end added an extra dimension. Just amazing.
Login or register to add your own review of this recipe.