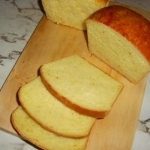 Almond Milk Bread
Page 132
| Course Type: Breads

View photos
(3)
Tags: almonds saffron yeast sweet bread
Recipe Reviews
Its name doesn't do it justice - it deserves one that is as exotic as its flavour. A yeast bread made with ground almonds simmered in milk, imbued with the subtle flavour and golden colour of saffron, this slightly sweet bread reminds one of brioche but is not as rich or buttery. The ground almonds help to create a tender crumb that is part way between a chewy bread and a moist cake and contribute a mild nuttiness to the flavour.

The dough is easy to work with and can be shaped into rolls or loaves. The saffron is optional but really elevates this bread from a tasty, everyday loaf to one worthy of special occasions.

Login or register to add your own review of this recipe.