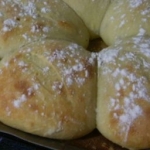 Potato Bread
Page 294
| Course Type: Breads

View photos
(1)
Tags:
Recipe Reviews
What can I add that Zosia hasn't already said - these are wonderful, excellent interior crumb and great flavor with just a subtle rosemary flavor. They were more successful as rolls than a loaf. I used half the dough to make the loaf as directed (baking the 2nd day) and the other half was left to ferment (final rise) overnight in the fridge as rolls. The flavor of the two variations were really about the same, however the crust of the rolls was much improved! I was disappointed with the crust on the loaf - too soft even with a well steamed oven. The flavor was very good other than being just a touch too light on the salt which may have been a measurement mistake on my part. My sponge made exactly 12 ounces which is what is called for in the recipe (no left over sponge - thank you!). I will certainly be making this again.
Unlike any other potato bread I've had and absolutely delicious! This rosemary-scented loaf is a hybrid of other types of breads: it tastes a little like focaccia as it's flavoured with olive oil and rosemary, and it looks like a chewy artisanal bread, but the texture is mainly airy and tender like a typical white sandwich loaf.

This is a 2-day bread that requires little hands-on effort but needs long fermenting/proofing times. It begins with a sponge (page 287) that rests at room temperature for 4-8 hours before being refrigerated overnight. Next day, the dough comes together quickly but requires 2-3 hours rising time with an additional 2-3 hours for proofing after the dough is shaped.

I made 10 large buns, ~170g each, (instead of 2 loaves), that baked in 18 min. A lot of spreading/rising takes place during baking - I didn't anticipate this and had my buns too close together. Next time, I'll bake them on 2 pans!

Tastes fabulous fresh out of the oven or toasted.


Login or register to add your own review of this recipe.