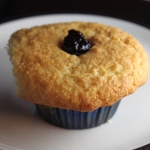 Raspberry Corn Muffins
Page 215
| Course Type: Quick Breads/Muffins

View photos
(2)
Recipe Reviews
These are very good and they make exactly 12 muffins---but only if you use "Texas-sized" muffin pans. I subbed canola oil for the butter and buttermilk for the milk and piped my homemade raspberry preserves in the top. So pretty!
Moist and sweet muffins. This recipe uses a 3:1 flour:corn ratio, as a result the texture is not as gritty as many corn muffins.

These were easy to prepare, but I did run into some problems. It makes a lot of batter. Ina Garten says to fill to the top of 12 muffin cups, so I just piled in the batter. Way too much - the entire top cooked together (see my picture #2). This made removing the muffins problematic, and only 7/12 came out intact.

I did pipe preserves into the muffins. It worked fine - very nice way to serve the muffins without having to give everyone a knife and have jam on the table. They were still crumbly, and the dog happily licked up all the crumbs that hit the floor.

While these were delicious, they use A LOT of butter and sugar - 1 C each. This is not the way I typically bake. Given that this recipe was developed for the Barefoot Contessa store, its great, and I could see it being loved by many. But it confirms my suspicion about buying muffins!
(edited 24th September 2011) (0) comment (2) useful
Did not add the raspberry preserves because I just wanted to make a corn muffin and these were very good. Need to cut the recipe in half next time because the full recipe made 17 muffins.
Login or register to add your own review of this recipe.