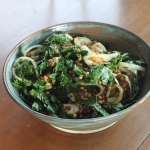 Wheat Berries with Charred Onions and Kale
| Course Type: Salads

View photos
(1)
Recipe Reviews
This salad was amazing!

Once you've cooked the wheat berries, the rest is easy - onions are fried till slightly charred, and then kale takes a turn in the frying pan. A good dose of salt and pepper, and a squeeze of lemon. Its really that simple.

This salad also really beautiful. I'd be happy to eat this any day.
Login or register to add your own review of this recipe.