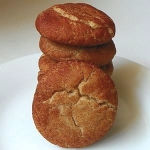 Brown Butter Snickerdoodles
Page 138
Cuisine: North American | Course Type: Cookies/Bars

View photos
(1)
Tags:
Recipe Reviews
This a cinnamon forward, crispy edged, nugget of deliciousness! Unfortunately the brown butter flavor did not come thru enough, and texturally they were a tiny bit cake-y where I prefer a chewier interior. I still have some dough that I will bake for about 8 minutes to see if I can achieve the chewy cookie I crave.
Crispy, crackly crust, chewy interior, this snickerdoodle is definitely a cinnamon-lover's dream cookie and with the added nuttiness from the brown butter, this recipe elevates a rather plain cookie to new levels.

The recipe is fairly standard in that it includes cream of tartar and is leavened with baking soda, but is non-traditional in its use of the browned butter, which I didn't bother to strain, brown sugar and cinnamon in the dough. The shaped cookies are rolled in a cinnamon-sugar mixture, which is quite heavy on the cinnamon, before baking.

I made mine smaller than the recipe directs, about the size of a walnut, so my yield was 5 dozen cookies. 10 minutes of baking produced the crispy/chewy texture I prefer; an additional 2 minutes produced a crisp cookie.

My new go-to snickerdoodle recipe!

Login or register to add your own review of this recipe.