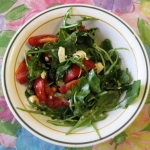 Tomato, feta and arugula salad
Page 41
| Course Type: Salads

View photos
(2)
Tags: challenge
Recipe Review
I really liked this salad. It is simple, and the flavors of arugula, tomato, and feta are an excellent combination. The dressing that is provided along with the salad is also simple - sherry and balsamic vinegars, olive oil, and pepper. I used four different types of home-grown tomatoes - different colors and sizes.

I'd make this salad again, possibly expanding to add additional veggies that are loitering in my crisper drawer.
Comments
Login or register to add your own comments.