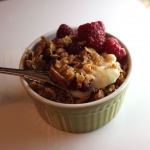 Dairy-Free Lemon Cremes with Oat-Thyme Crumble
Page 200
| Course Type: Desserts

View photos
(1)
Tags: raspberries healthy tofu
Recipe Reviews
Home run! This recipe was a hit with everyone in my household. Both the pudding and the topping are delicious. Together they are divine!
Two recipes in one! A creamy lemon pudding, and a totally indulgent oat crumble topping!

The pudding itself warranted a 4 - 4 1/2 - it is a silken tofu based pudding with one interesting modification. The recipe calls for addition of finely ground corn meal! The tofu is sweetened with honey, and flavored with lemon juice and lemon zest. We liked this quite a bit, but next time I will use more zest.

The crumble was excellent, and brought the review to a "5". Oats are tossed with coconut oil, sugar, vanilla, almonds, and thyme! While the recipe calls for fresh thyme leaves, I had to substitute dried, nevertheless the result was amazing.

I tasted the pudding several times during its 2 hrs in the refrigerator. In the beginning, the cornmeal was very obvious, but by the 2 hr mark, I really couldn't detect it any more. It must be added to provide additional thickening power. Note that I only had coarse polenta cornmeal, and so I pulverized it in an old coffee grinder (cleaned with white rice, dry).

I prepared this because my CSA again gave me a box of raspberries. I love the raspberry-lemon combination, and by preparing a special dessert, I know that (a) the berries are used while fresh, and (b) they are shared equally.

Whether you have raspberries or not, I highly recommend this dish. Its healthy, luscious, and an interesting combination of flavors.
Login or register to add your own review of this recipe.