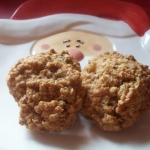 Oatmeal Raisin Cookies
| Course Type: Cookies/Bars

View photos
(1)
Tags:
Recipe Reviews
These are wonderful, not too sweet cookies. Mine did not spread much so I had these delightful chewy nuggets spiked with add ins (crystalized ginger and dried cranberries for one batch, chocolate and peanut butter chips for another). As always I freeze the bulk of my dough (in scooped balls) and bake, adding a couple minutes (12-13 total from frozen).
(edited 18th September 2020) (0) comment (0) useful
I was a little worried when the batter was so thick. (I don't bake cookies often since my daughter is a great cookie baker.) I shouldn't have worried since these turned out great. I heard lots of mmms when my tasters got loose on them. Mine baked up perfectly crisp but also a little chewy in 14 minutes. I didn't try any of the optional mix-ins but might next time. I used golden raisins since that's what I had on hand. I ended up with 20 cookies using a small ice-cream scoop. I usually have all these ingredients so there's no excuse not to whip them up again when hubby has a craving.
Login or register to add your own review of this recipe.