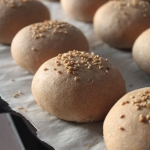 Buttermilk Bread
Page 176
| Course Type: Breads

View photos
(1)
Tags: whole grain
Recipe Reviews
Another light fluffy dough from 100% whole wheat flour. This recipe (as you likely deduced from the title) includes a lot of buttermilk, and the result is a bread with a lovely texture and flavor. Very much appreciated by the teenagers in the house.

Because I'm sick with the flu, I didn't feel up to the suggested 20 minute kneading, and so I mixed and kneaded this in my bread maker. I worked well until the end, where the cook is instructed to knead in some cold butter. Adding butter just made the dough very slippery and so the bread maker paddle pushed the whole dough ball in circles rather than actually kneading. So that last step, I did by hand.

The recipe makes 2 loaves. I used half the dough for rolls (pictured), and they were done to perfection after 15 minutes in the oven. The other half made a respectable loaf.
Login or register to add your own review of this recipe.