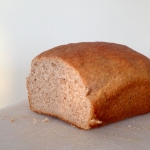 Featherpuff Bread
Page 188

View photos
(1)
Tags: whole grain healthy
Recipe Reviews
A surprisingly light 100% whole wheat bread! We prepared this dough so we could make the accompanying cinnamon rolls.

The dough is unusual (to me) because it calls for cottage cheese (3/4C/loaf), an egg, and dry milk (1/4C per loaf). The resulting bread is high protein, moist, and very light.

The author warns that the dough is extremely sticky, and cautions the cook to not incorporate too much flour. How I wish she had told me how to knead such a sticky dough, if not using flour! Moreover, you are told to knead for 15 minutes. I used my bench knife, and repeatedly buttered my hands. I don't know if I made it for a full 15 minutes, but I was close.

This bread had to accommodate my schedule, and it rose A LOT while I was out for 3 1/2 h skiing. But it doesn't seemed to have suffered too much.

Personally I like a heartier whole grain bread, but I'm so happy to have found a recipe for those occasions when you want something very light.
Login or register to add your own review of this recipe.