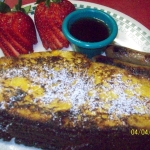 Challah
Page 94

View photos
(7)
Tags:
Recipe Reviews
I have been making this recipe for almost a year now as our weekly Shabbat Challah. This produces a light fluffy bread.I divide the dough into four loaves and freeze three. One loaf of this size is plenty for my family of five with a little leftover. I use 8 ounces of honey instead of sugar. I also need to add a good amount more flour. I found that my family likes this challah better without the optional vanilla. I sprinkle the dough with poppy and sesame seeds. Usually I just use a three braid since my five and six braids don't look as pretty. By the way, I refresh the challah that was previously frozen in the oven for about 10-15 minutes. It makes a world of difference and makes it taste fresh.
(edited 24th January 2012) (0) comment (1) useful
This is a delicious challah recipe. It is easy to make and the dough can be made up to four days before you want to bake it. Beware though, I kept mine in the refrigerator in a four-liter proofing container and it literally blew the lid off because it rose so high. The recipe doesn't call for them but I added 1 cup of raisins to each loaf. A little bit more would have been good too. I also chose to make a round braided loaf from directions I got online and not in the book. It tastes as good as it looks!

Note- bake this less than instructed- I pull it out at around 185 degrees.

Also- if you wonder what to do with all the egg whites, make Ina Garten's Black and White Angel Food Cake!

(edited 25th August 2011) (0) comment (0) useful
I love Challah bread, so I decided to try this recipe because I would be amazed if I could easily produce something that looks so difficult to make.

The recipe was very easy, but I found the directions to braid the bread a little difficult. I was not confident to try 4, 5 or 6 braids, so I decided to start out simple with my first braided loaf, so I would not ruin it. I decided to use the 2 braid method. I had a little difficulty understanding what Peter meant.

There was also no diagram for this method, so I found it a little confusing. It might have been easier to try one of the more difficult looking braids (4, 5 or 6) since there were nice diagrams. In the end, I think I got it right, but I am not sure.

What was right about this recipe was that it is amazingly tasty bread. It is so light and fluffy and almost buttery. I was amazed how it tasty it was and couldn't believe there was no butter. I used it on chicken salad and cannot wait to try some French toast with it.

The Challah recipe made a beautiful loaf! I love how all the eggs made the dough golden colored. I divided the dough into three loaves. I tried a three strand braid, four strand braid, and six strand braid. The directions were easy to follow and the four strand loaf was my favorite.

The texture of the bread was open and airy. We made some french toast with some of the leftovers and it acted like a sponge pulling the milk into the bread perfectly!

I replaced 4 cups of the white flour with whole wheat flour and added 3 T vital gluten. I increased the water to a total of 2 2/3 cups. I thought it maybe lacked salt. The recipe seems to call for enough so I'm wondering if I just goofed.

Another wonderful tasting bread that was easy to make, fun to work with, and yielded spectacular results!
I've always loved challah and was curious about making it. I gave it a try and got fairly good results. The dough feels luxurious as you knead it. I live in a hot climate so I had to retard the dough quickly in a very cold fridge so it would not over proof. The results were wonderful. My first attempt at braiding too and it worked out. I don't follow directions too well but I looked up braiding on you tube for some help.
My daughter and I made this one together. She's so much better at braiding bread than I am. I mixed up the dough. It came together very easily. It was a beautiful color, thanks in part to the farm fresh eggs my cousin gave me recently. The dough looked beautiful in the bowl as it was rising in the fridge. The only thing I would do differently next time is use a vanilla bean instead of vanilla flavoring. The recipe my daughter usually makes uses a vanilla bean and we liked the more prominent taste of vanilla the bean opposed to vanilla flavoring gives the bread. This recipe makes two huge loaves of Challah. I used some of the bread to make French toast for our Easter breakfast and it was very good. The leftover bread will be divided between my daughter and I for our families to enjoy during the coming week.
(edited 5th April 2010) (0) comment (1) useful
Login or register to add your own review of this recipe.