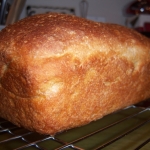 Struan
Page 91

View photos
(5)
Tags:
Recipe Reviews
This was terrific, and had I never made the Struan recipe in the Model Bakery Cookbook I would say this is my favorite grainy bread. My dough was never too tacky to handle and I did not have to add any extra flour. Once baked it is soft (even my crust was soft) and flavorful with great crumb and a little crunch from the cornmeal.
(edited 25th June 2020) (0) comment (0) useful
This is a great sandwich bread. It is pretty easy to make if you have all the grains on hand: oats, wheat bran, cooked brown rice. To this loaf I added some wheat germ as well. I made extra brown rice, portioned it and froze it in baggies so all I have to do next time is pull some out of the freezer. Having the cooked rice will save about an hour of prep time.

The dough was a little firmer than I had expected. It was a little thicker during the stretch and folds than some other types of bread. I don't know if I added more flour than is necessary but I don't think so. But I guess it doesn't matter because the end result is really good. The sesame and poppy seeds on top were a hit.
(edited 3rd October 2010) (0) comment (0) useful
Great bread... soft, sweet, lovely dark golden crust with bubbles. Despite all the different grains in it, you don't notice them individually (even the rice, I only notice it if a kernel is peeking out the top). Keeps very well, for several days without going stale. Slices easily without crumbling. Can slice very very thin, too, which I love.

But it does make small loaves. I use a 9 by 5 pyrex pan (which is thick glass so I think it is smaller than that) and it doesn't dome very high. I too think I will do the math to scale up to my 9.5 by 5.5 metal pans.

P.s. My pic is the one with the home-made mango jam. Goes great together!
This is an easy loaf to make and the results are excellent. So far, this bread is my family's favorite in the book. The Struan recipe seems to be particularly well developed (it gives specific weight for different sized loaf pans, for example). This makes sense since the book explains that Reinhart has been perfecting his Struan bread for years. I left the dough to ferment in the fridge for five days before baking it and the resulting bread had a rich, complex flavor that was wonderful for grilled cheese sandwiches. We ate the entire loaf in one day and I started another loaf immediately.
This is one of my favorite bread recipes in the entire book. At first glance it looks complicated with tons of ingredients, but it really is not much different than making a standard loaf of white bread. It is no surprise that Peter says this was the most popular bread at Brother Juniper's Bakery and also his personal favorite.

This bread is great with chicken salad, tuna salad, egg salad, etc. It is also great toasted, so the options are endless.

I split the dough in 2 and I was left with 2 small loaves that barely filled a bread pan. I must have lost some dough in the mixing process. This seems to be a common problem I have. Next time I will have to make a little extra dough (maybe 10%), so I end with bigger loaves.

This is a soft sandwich type bread that contains many different grains including cornmeal, oats, wheat bran, and brown rice. My loaves were a little heavier then some of the other recipes but the bread was very delicious. I liked it toasted with butter and honey! Mmmm!

I substituted 3 cups of whole wheat flour for 3 of the cups of white flour and also added 3 T vital gluten. I increased the water by 1/4 cup. Next time I'd like to try the variation of adding some sourdough. I think the flavor would even be better!
This is a fantastic bread,its easy to make. I substiuted
the brown rice for cooked Bulgar wheat. Ialso substituted Bobs Redmill 10 grain hot cereal in place of the oats, cornmeal, and bran. It is good toasted.
Login or register to add your own review of this recipe.