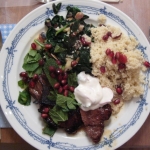 Sautéed Spinach with Apple, Pine Nuts and Cream
Page 120
Cuisine: Moroccan/Algerian/Tunisian | Course Type: Sides

View photos
(3)
Tags: vegetarian spinach almonds apples nuts side keeper
Recipe Reviews
This was a true discovery! Spinach has never really appeared very exciting, until today. The only change we made was that we substituted the pine nuts for almond slivers. We'll definitely make this again!

We served this with Chicken Wings with Blood Oranges and couscous with sweet dried cranberries and spices as a main dish - a very good combination. This was followed by Poached Quinces with Rose Water Syrup as dessert - excellent as well.

Edited 24 March 2012:
Served with Pomegranate and Honey Glazed Chops with Radish and Cucumber Tzatziki, jewelled couscous and grilled aubergines (pictured) - excellent combination! This was followed by the Ginger-spiced Oranges with Caramel Ice Cream - very good as well.

Edited 29 April 2013:
Hmm, we just made prepared it twice, on two consecutive days, and each time it was too sweet, though I'm not exactly sure what we did differently. I guess we'll try less honey next time, and perhaps sour cream instead of normal cream.
(edited 29th April 2013) (0) comment (0) useful
Login or register to add your own review of this recipe.