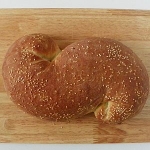 Pane Siciliano
Page 198
Cuisine: Italian | Course Type: Breads

View photos
(2)
Tags: semolina flour pate fermentee
Recipe Reviews
Loved this bread! Didn't love the 3 days it took to make. The golden crumb is light and airy and the bread has a distinct nutty flavour.

It starts with a pâte fermentée, which rests in the fridge overnight. This is added to flour, both bread and semolina, water etc and the dough is kneaded and left to proof. The shaped loaf is refrigerated overnight before baking.

I didn't have room in my fridge to allow 3 loaves of bread to rise so I made a half recipe only. I followed all of these steps because Mr Reinhart insists that it makes a huge difference to the flavour…..I'm not certain that my palate is educated enough to detect the differences and am tempted to make this as a 2-day bread. I still have a ½ batch of the preferment so that experiment may be taking place very soon….

andrew from Vancouver Island, BC
This is a very pleasant bread - the semolina gives it a nutty flavour which works well with sesame seeds. The only reason I didn't give it 4 stars is that it's a lot of work for a bread I can't see myself making again and again - partly because if you do it as recommended it's a 3 day recipe.
Login or register to add your own review of this recipe.