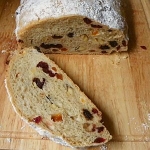 Stollen
Page 252
Cuisine: German/Austrian/Swiss | Course Type: Breads

View photos
(2)
Tags:
Recipe Reviews
Wow! I really liked this bread which came as quite a surprise to me as I don't usually enjoy breads/cakes laden with dried fruits. But there was something about the combination of the citrus and cinnamon flavoured yeast bread, which was quite tender and light despite containing all of that fruit, and the sweet fruit that hit just the right flavour note. The bread wasn't overly sweet, depending almost exclusively on the fruit to provide the sugar, and the textural contrast of the crunchy almonds was very nice.

The bread was also very easy to make with minimal hands on time and average fermentation and proofing times. I decided not to soak the fruit in alcohol and I must admit to one major change….. I left out the candied fruit, the ingredient that stopped me from trying this recipe sooner.

With that omission, I'm not quite sure how authentic a stollen it was, but it was delicious!

andrew from Vancouver Island, BC
A delightful Christmas treat indeed. These are larger than you'd think - the photo makes it hard to estimate, but they're quite a bit larger than the sort of Stollen you buy in the store (at least 50% larger). I made these with marzipan in the centre. The only change I'd make is not soaking the fruit in brandy in advance - I prefer these non-boozy. I didn't have orange or lemon extract and just used zest instead.
Login or register to add your own review of this recipe.