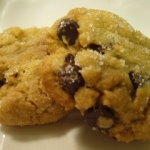 Peanut Butter Cookies
Cuisine: North American | Course Type: Cookies/Bars

View photos
(1)
Tags: cookies peanut butter annebeth
Recipe Reviews
Great cookie! As far as peanut butter cookies go these are the best I have had. I am usually a bit ambivalent - I'll eat one only to find too sweet/soft/hard/dry for my taste. These were perfect- crisp around the edges and soft and chewy interiors. The crispy edges didn't hold up on the few leftover cookies but were still delicious. I used mostly regular pb but had to use about 1/3 cup natural (unsweetened) pb - so maybe this kept them from being overly sweet?? I am not a chocolate fan but the dark chocolate chips I used here were a welcome addition, though I did skip the peanut butter chips. I froze half the dough for whenever I get the craving.
Really good cookies. A lovely texture, a bit crusty on the outside and tender and chewy on the inside. I creamed the butter and peanut butter and sugars until they were a lovely fluffy mass. I skipped the milk as it seemed unnecessary and didn't miss it in the final product. I also skipped the chocolate and/or peanut butter chips. These are peanut butter cookies to make the purist happy. I love the cross-hatching and a sprinkling of sanding sugar on top. Much to be preferred to the varieties which employ shortening over butter.
andrew from Vancouver Island, BC
Very good indeed. I'm particularly impressed by how light in texture they seemed. Perhaps it is partly our peanut butter (it was from a new jar of natural pb, and it seemed fairly runny), but also the creaming of the butter and peanut butter at room temperature has something to do with it, I think.

We made a couple of tweaks - brown sugar only (we're out of white) and chocolate chunks rather than chocolate and peanut butter chips. Otherwise, exactly as written and it made a very good cookie. I might cut back a little on the sugar in future, but that's it. Hello to our new peanut butter cookie recipe!
(edited 27th November 2011) (0) comment (4) useful
Best peanut butter cookies ever!! Perfectly chewy and very peanut-y. The sugar "crust" gives an extra crunch and makes these cookies look extra special.
Login or register to add your own review of this recipe.