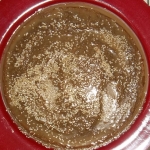 Sesame Cake with Sesame Icing
Page 518
Cuisine: Greek | Course Type: Cakes

View photos
(2)
Tags: challenge
Recipe Reviews
I love sesame flavor, and so I took Tignor's review into consideration, and tackled this recipe. I cut down on the amount of clove, and I allowed it to cook for an extra 5 minutes (watching that old toothpick carefully). And, when I applied the sesame icing, I didn't just let it pool in the middle, but instead largely applied it to the edge of the cake. Finally, I garnished it with a combination of regular and black sesame seeds.

This was a very moist cake, and it had an unusual flavor. My DH ate at least three servings, he loved it (and disagrees with my rating, he would give it a 5). The rest of us did feel that it had a Greek feel to it, but were not totally thrilled.

I agree with @tignor that the clove amount is excessive, but using 1/2 the amount was good. Another big problem is the amount of bread crumbs. A volume measurement of breadcrumbs is so dependent on how fine they are. I have only panko, which I think were too coarse. I did really smash it down into the measuring cup, and added a bit extra. But perhaps with a truly fine crumb size, it would have baked up better.
(edited 4th March 2013) (0) comment (1) useful
Taste was interesting, clove-y. Texture though, was something I've only experienced when you pull a cake out of the oven and you think it's done all the way through only to find it half-baked in the middle. It didn't feel like this before I added the immense amount of glaze, though, as it was baked through. Won't make again, just because it's unpleasant to eat this way. But, live and learn.
(edited 6th February 2013) (0) comment (0) useful
Login or register to add your own review of this recipe.