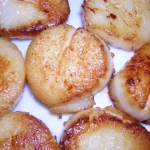 Caramelized Sea Scallops
Page 88

View photos
(1)
Tags:
Recipe Reviews
I make scallops like this all the time. The method I use is very similar, but once again Chef Keller has a few tips / tricks that are 'extra' steps, but they are definitely worth it. In this case, the scallops are brined and cooked in Clarified Butter (p 335). The clarified butter allows you to sear them and cook them in butter at a very high temperature without burning the butter. Being able to sear them at such a high temperature created a crispy, buttery crust. The crust was a perfect texture contrast with the smooth, perfectly seasoned inside that was created by the simple brine.

The recipe is very simple and I will be replacing my cooking method with Chef Keller's.

I halved this recipe, but otherwise followed it to a tee. I used lovely huge divers scallops. I was careful to make sure the clarified butter was hot enough (shimmering). Mine were done at about three minutes for the first side, and less for the second. We had these with some spinach from the farm and a salsa of mango, pineapple and onion. I don't know that I would have ever thought of brining the scallops, but it's a brilliant touch. I would note, though, that like many of Keller's recipes, it assumes the home cook has a restaurant style larder. Not everyone has clarified butter on hand...
Another simple recipe that is really delicious. I had never used a brine for seafood before but this was really easy. I did not add additional salt as directed because of this, and I am glad I didn't- they were plenty seasoned. I like my scallops barely cooked through but in the time it took to caramelize them, they were a little more cooked than I would have liked. I might not have had the heat high enough, though the clarified butter was starting to burn by the time I was done. I have extra tarragon sauce from the Ad Hoc tarragon chicken recipe I cooked the other day and I bet that would be delicious over the scallops.
(edited 19th July 2010) (0) comment (1) useful
Login or register to add your own review of this recipe.