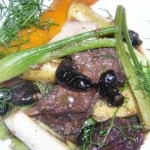 Catalan Beef Stew
Page 46

View photos
(1)
Tags:
Recipe Reviews
This takes some planning ahead to make because you have to make the recipe for the Braised Short Ribs. I had soffritto in the freezer from the last time I made it which was a huge time saver. Given that with most stews all the ingredients cook together for a while, I was surprised that in this recipe all of the components are cooked separately and then only cook together for about ten minutes. I have to say, maybe because of this, I didn't think the flavors blended all that well together. I had high hopes for this and they weren't really met, unfortunately.

Update: To give credit where credit is due- this was MUCH better the next day.
(edited 15th October 2010) (0) comment (3) useful
Again, a wonderful result but using techniques usually found in restaurants. Having made the braised short ribs, I had only to prep the veg and then put the dish together. But this is a somewhat fussy prep for the home cook. The result, however, is quite wonderful, very bright and complex flavors which do not overwhelm the very good, winey ribs. I would also note that the excess sauce can easily be frozen in an ice cube tray and, once frozen, tucked into a ziplock bag and saved for future use.
Login or register to add your own review of this recipe.