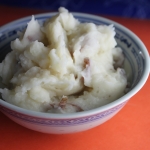 Parmesan Smashed Potatoes
Page 158

View photos
(1)
Tags: easy kid friendly mashed potatoes
Recipe Reviews
I used half the butter and substituted buttermilk for the heavy cream, but kept the sour cream. I wished I had added the melted butter first, then added the warmed buttermilk (as in the America Test Kitchen recipe). That way I could have controlled the amount of liquid better. 1 ½ cups turned out way too watery. Don't use fat-free butter milk, it separates when heating. I liked the suggestion for evaporated milk. This was not a success for me.
This is very good and I like that there are chunks of potatoes in it. I do admit to lowering the fat too. It tastes just as good. It goes really well with the Turkey Meatloaf.
These are not for the diet concious but very good. I did use yogurt for the sour cream and evaporated milk instead of half and half. These will be on my special occasion menu.
What's not to like about these potatoes? They are very rich and flavorful. It was also nice that I usually have all the ingredients I need on hand. I halved the recipe and still had plenty of leftovers, because they were so rich that I kept portion sizes small.

I don't have a standing mixer so I just used my potato masher and they came out fine. I finished them using a trick I learned from a local diner. I spooned out the portions on a hot griddle and let them get browned on both sides. They go very well with eggs that way.
(edited 8th October 2012) (1) comment (3) useful
Great flavorful potatoes!

But I must confess to several alterations - largely to cut the fat. But even so, kids and husband couldn't get enough of it!

Now to the changes -- I used 2/3 the butter called for, I replaced the half-and-half with 1% milk, and I replaced the sour cream with yogurt.
Login or register to add your own review of this recipe.