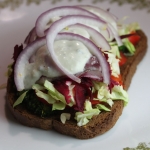 The Sandwich for BleuCheese Fans
Page 89
Cuisine: North American | Course Type: Main Courses

View photos
(2)
Tags:
Recipe Reviews
Beets are the new tomato.
I've always thought that a sandwich had to have tomatoes for me to truly love it. This sandwich opened my eyes!
This sandwich uses rye bread, spread with mustard (we used spicy brown), sauted broccoli and bell peppers (we used red), shredded cabbage, shredded beets, shredded carrots, broiled cheese, a fabulous blue cheese sauce, and red onions.
The main chore here is a lot of shredding. The blue cheese sauce requires mayo, and we first made vegenaisse (Bittman), then used it here for the sauce.

This sandwich is beautiful (the colors!), delicious, and nutritious. The perfect trifecta, and when you add easy to the mix, its possibly unbeatable.
Login or register to add your own review of this recipe.