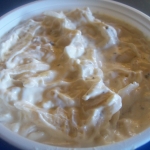 Pan-fried onion dip
Page 53
Cuisine: North American | Course Type: Appetizers

View photos
(1)
Recipe Reviews
I make this a lot for the onion dip lovers in the family Never disappoints. For the non-onion lovers her roasted tomato dip is the ticket. So I usually make both for family gatherings
There's not much to say that hasn't been said.

I cut the butter and oil in half which worked out fine. I also used low fat sour cream and lite mayonnaise and the dip was plenty rich.

If you're going to be in the kitchen anyway and can watch the onions for 30 minutes, there's just no reason to use onion dip from an envelope.
What a way to take an old classic and make it better. I sometimes use low fat cream cheese and sour cream to make it lighter and it is still fabulous. I usually don't use the lower fat version of mayonnaise or butter because really there are things you just shouldn't skimp on. Always a hit at parties and game days!
A chunky dip full of sweet onion flavor. I followed Southern Cooker's advice to use half of the oil and butter and agreed that it was hard to go the full 30 minutes so that all of the onions were nicely browned. I also used my handheld mixer, but had to pull the onions out of the bowl with the piles of sour cream, cream cheese and mayonnaise as I had not mixed them yet. In retrospect I think it would have worked fine to dump everything in at once and mix. It was a huge hit; we may never buy the mix again. I especially liked the reduction in salt.
This is fabulous and truly addictive! I serve it with plenty of vegetables to balance out the richness. But it's great with potato chips too!
This is an excellent dip. The only thing I might try differently next time is to use about half the amount of butter and oil. My onions were practically swimming in oil which I had to drain off before cooling. I don't have a stand mixer with a paddle attachment but this worked well with a hand held mixer. My tasters all agree this was much better than store bought dip and it's really a easy to make. The hardest part is waiting for the onions to get nice and browned. I'll be making this one again.
I've made this so many times, I don't even need the recipe anymore. It's delicious and you'll certainly find your guests asking for more. Serve with gourmet potato chips.
The flavor in this dip is amazing. It's nothing like the overly salty boxed mix dip.


Remember the onion dip from a box, well this is so much better. Easy to make and tasty. Brings back childhood memories.
Login or register to add your own review of this recipe.