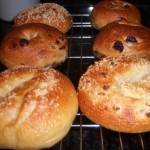 Bagels
Page 74

View photos
(5)
Tags:
Recipe Reviews
Another easy and delicious recipe from this book. It made eight bagels. While they are smaller than bagel shop bagels they are still fairly big. Next time I might try to make ten instead so they are even smaller. I didn't use the egg wash before putting on the toppings, but wish I had since most came off. Next time! These were so good, I will never have store-bought bagels again.
(edited 1st July 2010) (0) comment (0) useful
We have enjoyed some good bread with the help of this cookbook. But the day we made cinnamon raisin bagels was the first time that the children and I bit into the still warm bread and immediately packed up and went to visit Dad so he could have some too! With four children, visiting Dad at work is a rarity. But we knew how much Ed enjoys bagels, and (how can I say this humbly) these were the best bagels I've ever eaten.

I've made bagels in the past. There is a few extra steps, like boiling in soda water, that keep me from making them often. This recipe, though tipped the scales. Bagels this good are worth a little extra work!

I used the option of adding cinnamon and raisins. I also replaced 1 1/2 cups of white flour with whole wheat flour and added 2 T vital gluten. I increased the water slightly to a total of 1 1/3 cup.

I mixed up the dough and placed the dough in the fridge in a bowl and formed the bagels two days later. I ran into a little difficulty with shaping. The raisins had hydrated and pulled the moisture out of the dough. Around each raisin, the dough was punk dry. I thought the dough was ruined but in an attempt to salvage it, I wet my hands liberally while I formed the dough into bagels shape. This made the dough harder to work with and the bagels were lumpy and misshapen but the dough hydrated enough that the outcome was delicious! Next time I'll pre-soak the raisins in hot water before adding them to the dough.

The recipe makes six huge bagels. I doubled the recipe so that there would be a few for the freezer. They stored well, but didn't last long there either!
The hardest part about making these bagels was waiting for the, to cool for 30 minutes before eating them (that and waking up early to boil and bake them the morning of). The bagels were crisp on the outside, chewy on the inside and had a great flavor. I will definitely be making these again, especially now that I have a large jar of malt syrup to use up.

I made one batch of these using the recommended barley malt syrup. I had no trouble kneading a single batch of dough by hand, but could see how it might be challenging to double the recipe without a mixer. Reinhart describes two methods for forming bagels from the dough. I followed the supposedly preferred method of rolling out a rope of dough and connecting the ends to form a loop. My first bagel had a visible seam, but I got the hang of it by the second of third one. The bagels passed the 'float test' immediately the next morning.

If you have easy access to a great bagel shop, it might not be worth the effort to make your own. But if your options for good bagels are limited, these are far superior to anything that comes out of a plastic bag or grocery store bulk bin. (And doesn't it sound impressive to say you baked your own bagels?)
(edited 4th April 2010) (0) comment (0) useful
I decided to make this recipe because Peter says that New York City is not the only place you can get great bagels. I recently moved from the NY area down to Washington DC, so I would love if that was the case, so I had to try this recipe.

The recipe is easy to follow. I divided the dough into 113 gram portions and they looked a little small. Since, it was the first time using this recipe, I didn't make any alterations. After overnight fermentation, they were the same size. I thought they would rise more in the refrigerator. When I took them out of the fridge they immediately passed the "float test". I boiled them and baked them and again hoped they would rise a bit more. No luck.

Also, for some reason the boiling water overflowed twice after adding the baking soda, so be careful to use a pot that allows for at least 4 inches of water, but also has several inches left in case the baking soda reaction causes an overflow.

The finished product was good, but not great. They tasted like bagels, but I thought they were a bit small and dense for real New York City bagels. I am going to alter the recipe a little bit next time. I may increase the size of the bagels by 50% and try adding a little more yeast, so they rise more and are less dense.

(edited 8th April 2010) (0) comment (0) useful
These bagels have that real bagel flavor. They are similar to the BBA bagels but I like the flavor of those a little more. These are much easier to make. I made a double batch so I could keep some in the freezer. This dough is stiffer than most of the others in this book. It's still possible to do it by hand (don't have my mixer with me sadly). Next time I will try the cinnamon raisin. This time I made everything for bagelwiches, and sesame for breakfast with raspberry jalapeno jam.

I would make either these or the BBA bagels any time.
(edited 15th March 2010) (0) comment (0) useful
I've used this recipe to make bagels 5 times now. It was really easy and so rewarding when finished. The flavor is wonderful and the texture is soft & chewy.

Before I made my first batch, I had done a lot of reading about bagels and learned the flour, barley malt & overnight fermentation were all keys to success.

I found high gluten flour on-line at King Arthur's Flour (Sir Lancelot). Knowing I'd be making them a lot, I decided to drive to KA & purchase a 50 lb. bag.

I scaled the dough, rolled them into balls and punched my thumb through the center. Storing them in the refrigerator overnight to develop their flavor; after they are boiled and baked the next day, they make a wonderful breakfast item. I made plain - sesame seed & onion.


The bagel recipe was great! It was easy and fast. The bagels tasted like real, old fashioned bagels, not the fluffy type you buy in the plastic wrapped package at the grocery store. They have weight and chewiness, but they are not tough. The flavor was good. Even with all the steps it was not too time consuming and worked easily into my schedule because of the ability to retard the dough until it was convenient for me to bake.

You will definitely need a mixer for this recipe unless you have strong arm muscles. Bagel dough is dense and stiff. But with the mixer it was no problem at all.

I decided to chill the dough and then form the bagels with cold dough in the morning, and found them a little difficult to form. The dough was—for want of a better description—tight. Next time I will form them first and let them rise overnight in the fridge—I have a doughnut pan that can help them hold their shape (Salvation Army Thrift store for $3).

Boiling the bagels is not as difficult as it sounds, and goes quickly since this recipe makes only 6 bagels. If you want more, make it in two batches because it's hard to handle and double volume of this dough.

They baked up easily and were quickly devoured by my family. I recommend them with cream cheese and blackberry jam.


Login or register to add your own review of this recipe.