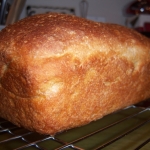 Struan
Page 91

View photos
(5)
Tags:
Single Review Display
This was terrific, and had I never made the Struan recipe in the Model Bakery Cookbook I would say this is my favorite grainy bread. My dough was never too tacky to handle and I did not have to add any extra flour. Once baked it is soft (even my crust was soft) and flavorful with great crumb and a little crunch from the cornmeal.
(edited 25th June 2020) (0) comment (0) useful
Login or register to add your own review of this recipe.