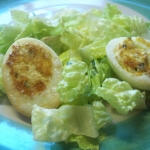 Pan-crisped Deviled Eggs on French Lettuces
Page 93
Cuisine: Other | Course Type: Salads

View photos
(1)
Recipe Reviews
I agree with Sturlington this recipe is great. I only had romaine lettuce but loved the dressing made with the left over egg stuffing and a few other basic ingredients. I'd never though to pan fry a deviled egg but this is wonderful on the lettuce.
I've had mixed results with this cookbook, but this one recipe is probably worth buying the whole book. It is truly one of the best salads I have ever made.
(edited 11th September 2012) (0) comment (1) useful
Login or register to add your own review of this recipe.