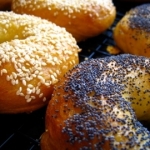 Bagels
Page 115

View photos
(2)
Recipe Reviews
Great bagels! As a former New Yorker who grew up eating freshly baked bagels, I was delighted with the results from this recipe. A bit of work but well worth it for bagel aficionados.
This recipe seemed daunting at first, but it has turned out great every time (with the exception of once when I tried to travel w/the dough).

After making it a few times I really got the hang of it and it is not as time consuming as you'd think. They really are the best bagels you can get in our small city. I highly recommend it!
Love this recipe, use it often. I do use the malt - have used both powdered and liquid - and find the flavor and texture to be excellent. They freeze well, so I always make a double batch (it helps to have an extra fridge to hold them in overnight).
(edited 8th June 2010) (0) comment (0) useful
These were absolutely incredible. Although I can't seem to make them without setting off my smoke alarm, they are completely worth it. I made poppy seed, sesame seed, and salt bagels. Using an egg wash to stick the toppings on helped. I also used 2.5oz pieces of dough for each bagel, so they were a more manageable final size.
This was the first recipe I tried from this book. My friends and I decided they were the best bagels they've had in our small town! They were similar to a Detroit bagel - maybe not a NYC bagel, so I was a fan (growing up outside of the Motor City). I will definitely be making these bagels again. I followed the recipe exactly (temperatures, timing, instructions) and it worked great. I was very pleased. Bagels are so personal and subjective though...
andrew from Vancouver Island, BC
These didn't work out too well for me. The problem with baking, though, is it's hard to tell if it's the baker or the recipe, so I'll be trying this again and updating.

I'm a fan of the chewy Montreal style bagel. The recipe says these are the chewy New York 'water bagels', boiled and dense, which sounds a lot like Montreal style. But when I made them they were not as dense as the ones I'm used to. I also found they were rather large at 4.5 oz each. I weighed some bagels from Siegel's in Vancouver, which are pretty close to the authentic Montreal style, and they were 3 to 3 1/2 oz each, so when I try again, I'll shrink the size. I also intend to boil them a little longer, try the rope method of forming them and maybe put some honey or malt in the water.

By comparison, I tried the bagel recipe from Homebaking (see my bookshelf) and it turned out much better indeed - very close to what I was hoping for, though still not quite chewy enough.
(edited 6th October 2009) (0) comment (0) useful
Login or register to add your own review of this recipe.