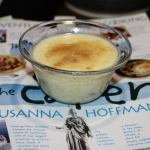 Rice Pudding
Page 531
Cuisine: Greek | Course Type: Desserts

View photos
(1)
Tags: challenge
Recipe Reviews
Really love the creamy, custardy pudding that results from a little time and a lot of milk. I did halve the sugar because I prefer a less sweet pudding and had to cook a little longer to get a good consistency but otherwise stuck to the recipe. I will definitely be making this again.
(edited 15th April 2022) (0) comment (0) useful
edited to raise to a "5" -- this pudding is even better cold - excellent texture and flavor.

This creamy rice pudding is relatively quick to put together, and it is delicious. I used the full amount of milk called for (6C for 3/4C rice), and am pleased by the lovely custard that resulted. You cook the rice, milk, sugar, and flavorings (I used nutmeg, mastic, and yellow raisins). After the rice is cooked, you mix in egg yolks (3), and whisk it over heat until its cooked. It took more like 5 minutes to thicken to my taste, but it came out with the perfect creamy texture.

I was a bit heavy-handed with the mastic, and there is a definite resin-like flavor. But it goes well with the rest of the ingredients. In fact, my 17-yr old son who typically does not care for rice pudding is actually enthusiastic about this one.
(edited 16th March 2013) (0) comment (1) useful
Excellent creamy rice pudding that turned a rich brown color from the raisins and the vanilla extract. I used the Arborio rice as recommended. Not having whole milk, I used a combination of two and zero percent fat milk. Since I have had trouble with either runny or overcooked rice pudding, I eliminated one cup of the milk. She does not specify how much of the optional additions to add, so I added an amount of black raisins equal to the amount of rice (and also the sugar). It cooked perfectly, thickened just right, and I liked this version made with Arborio rice.
(edited 27th February 2013) (0) comment (2) useful
Login or register to add your own review of this recipe.