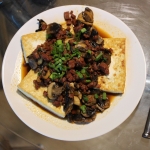 Crispy Tofu with Shiitakes and Chorizo
Page 302
| Course Type: Main Courses

View photos
(1)
Tags: challenge 2008 chapter 6
Recipe Reviews
We all loved this, though it was way too salty. I think the quality of your Spanish chorizo will determine its saltiness, and when I make this next time, I will replace half the chorizo with a vegetable (snap peas, perhaps). I doubled the recipe for four of us. I also drained/pressed the tofu for about an hour so it would really crisp up. The instructions were good - you really just need to let it fry for a long enough time and at a high enough temperature.

The odd thing about this recipe is that you serve tofu with meat on top of it. I'm accustomed to tofu meaning a vegetarian dinner, but this recipe played well for us.
Login or register to add your own review of this recipe.