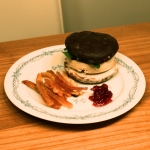 Cinnamon Ice Cream
Page 38
| Course Type: Desserts

View photos
(1)
Recipe Reviews
Rich and delicious! I was hoping for even more cinnamon flavor but everyone else thought it was perfect. Mine does come out of the freezer pretty hard (not icy tho), but with 8-10 minutes on the counter it is incredibly creamy. I did "cured" this overnight (without the cinnamon sticks) and opted for the extra teaspoon cinnamon.
Great ice cream, as usual. We made a smaller portion, making half a recipe but using 3 egg yolks. Also, we used the 3 cinnamon sticks we still had and added an extra 1 tsp ground cinnamon. The result was creamy and had just the right amount of cinnamon.

We served the ice cream as part of our Big Mac dessert: store-bought Lebkuchen (photo) as buns, the Cinnamon Ice Cream shaped into patties, store-bought cranberry sauce as tomato ketchup, mint leaves as salad and Orangettes as french fries - it looked really good!
(edited 26th January 2014) (0) comment (1) useful
Login or register to add your own review of this recipe.