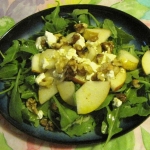 Arugula, Pear and Walnut Salad
Page 39
| Course Type: Salads

View photos
(1)
Recipe Reviews
Spectacular!
This salad not only looked attractive, but each individual ingredient both stood out and complemented the other ingredients perfectly. I used bosc pears, and had to substitute feta for the goat cheese. I've come to love arugula relatively late in life, and this recipe showcased this lovely green beautifully. With the sweet pears and walnuts, arugula provided the perfect flavor complement.

I also should say that I really like Shulman's salad dressings. This one was no exception. Balsamic and red wine vinegar, a bit of mustard, and a bit of oil (in this case, walnut oil is called for, but we substituted what we had - hazelnut oil).

If you are lucky enough to have great pears don't hesitate - make this - its amazing.
This was an incredible salad. My pears are either too hard or too soft, but these pears were at the perfect stage of ripeness. I was afraid that the pears would brown, but they held up well. The richness of the nuts, sweetness of the pear, creamy contrast of the gaot cheese, tartness of the dressing and roar of the arugula was amazing. This would be a nice special salad for company.

(edited 20th September 2012) (1) comment (1) useful
Login or register to add your own review of this recipe.