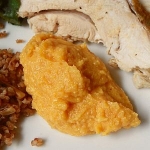 Sweet Potato Skordalia
Page 463
Cuisine: Greek | Course Type: Spreads

View photos
(1)
Tags: sauce garlic mayonnaise sweet potato
Recipe Reviews
It's a nice, slightly unconventional version of the classic potato or bread skordalia, but a very successful one! It tasted really nice, I thought the garlic was strong but nicely balanced by the sweet potato, almonds, vinegar and cayenne. There was just one problem: olive oil.

I'll admit upfront that perhaps the main problem was that we used the wrong one - I only had extra vergine at hand, and that produced a very strong olive-y flavour, not very nice. But I also think the quantity was off - the skordalia ended up being too liquid, and the flavours initially were completely overpowered by the olive oil - surely that cannot all be due to the extra vergine olive oil? Next time I would start with less oil, maybe only 1/3 cup, and would be prepared to substitute part of the olive oil with a more neutral tasting oil.

Oh yes, and quantity: it's really a lot, and unfortunately I forgot. Half a portion should be enough for 6-8 servings. You can probably freeze it if you have leftovers, though it's probably better to add everything except for the oil, then set aside a portion you want to freeze as oil doesn't freeze that well.

Yesterday we served the skordalia with baked chicken, Beet Tzatziki, sweet potato chips (like in this recipe, but minus the harissa), a very nice and cheerful looking combination. Today we had White Bean Soup with Skordalia, and the skordalia really saved the soup!
This non-traditional take on a very traditional food was quite good…..rich and sweet with subtle garlic flavour, a little heat, and a nice zing from the red wine vinegar.

I made the recipe as written and used it to coat a turkey I was roasting, one of the suggested uses. It had the correct "flowing consistency" initially, but was quite thick when it came serving time. I left it the way it was rather than messing with the flavour by adding more liquid.

It didn't seem to do much as a coating on the turkey, and, in fact, prevented the skin from browning nicely, but it was very tasty served alongside.

Login or register to add your own review of this recipe.