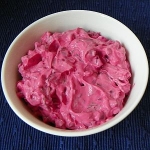 Beet Tzatziki
Page 467
Cuisine: Greek | Course Type: Sauces/Gravies

View photos
(1)
Tags: beetroot tzatziki needs to be prepared in advance can be prepared in advance
Recipe Reviews
Great stuff.
My one big beet with about half the yogurt would have served three, but two of us finished it off without complaint. Dried dill tonight.

Brilliant recipe! It tastes very nice and makes a cheerful dish. It works really well with chicken, we served it with baked chicken, sweet potatoes and Sweet Potato Skordalia
Like Zosia, I think this is fabulous. It is beautiful to look at and tastes wonderful. And the taste does improve--made yesterday, it's even better today.
Must love beets - and I do - to enjoy this recipe.

Cooked beets replace the more traditional cucumber in this yogurt dip/sauce. The sweet, earthy (roasted) beet and tangy yogurt flavoured with garlic and dill make a fantastic tasting combination that goes well with grilled meat and vegetables. I actually preferred it several hours after I'd made it when the beet flavour (and colour) was more intense.

A great twist on a classic.


(edited 6th February 2013) (0) comment (2) useful
Login or register to add your own review of this recipe.