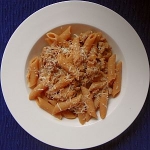 Pasta with Fast Sausage Ragu
Page 343
| Course Type: Main Courses

View photos
(1)
Tags: easy challenge week night dinner chapter 7 2001
Recipe Reviews
As I am not generally a fan of Mark Bittman's "Minimalist" recipes in the Times, I was surprised how much I enjoyed this very simple and very fast ragu. A lot of flavor with very little effort. Excellent weeknight meal. Worked well with small penne.
I agree with Zosia, this is an easy dish whose flavor is much more than what one might expect for a dish that is prepared so easily!

I used a locally-produced sausage that is my family's favorite. My daughter was pleased to have this excuse for purchasing whole milk. We prepared it with shells, and it looked quite nice.

We will keep this dish in mind. Its much more meat heavy than my usual fare, but paired with a side vegetable and a salad.
(edited 10th June 2013) (0) comment (1) useful
If you start with your family's favourite sausage, this is sure to be a hit.

I used lean Italian pork sausage that's highly seasoned so not much more was required to flavour the sauce. The sauce itself was rich and silky even with using only 1% milk. I doubled the meat in the recipe so it would meet the carnivores' meat:pasta requirements (and my package was 500g) but kept the other ingredients the same.

The ragu was done in the time it took to boil the water and cook the pasta but you wouldn't know how little effort went into it from the taste. Definitely something I will make again.

Login or register to add your own review of this recipe.