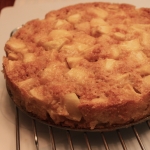 Marie-Helene's Apple Cake
Page 432
Cuisine: French | Course Type: Cakes

View photos
(1)
Recipe Reviews
Apples with a little cake - I loved it. It was a lovely golden color with a very moist crumb - almost like bread pudding. I used a variety of apples and the flavor was wonderful.
Great apple flavor. As described by AJ, the batter more or less just coats the apple chunks. It becomes a lightly texture with great rum flavor.

We used a combination of jonagold (not great apples) and granny smiths. The cake seems adaptable for all sorts of apple varieties.

I had difficulty telling when the cake was done baking. I had used a 9 inch rather than 8 inch springform pan. The cake had baked 55 minutes before I took it out. The top was still sticky, but it tasted really great. Next time I will cook it a bit longer.
This cake is as much apple as cake which makes for a change of pace in our household. In fact, the texture is more fruity than cakey.

The cake batter is flavored with rum and vanilla and it's really nice.

Dorie suggests making this cake, which calls for 4 large apples, with four different varieties of apples. But I had about six small same variety apples and went with that. It may be better with different kinds of apples but its pretty darned good just like this.

Really simple to make; recipe calls for an 8 in. springform pan.
(edited 15th October 2010) (0) comment (1) useful
Login or register to add your own review of this recipe.