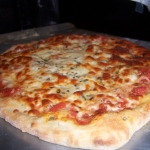 Neo-Neopolitan Pizza Dough
Page 67

View photos
(4)
Tags: pizza dough
Recipe Reviews
I was excited to make this given all of the reviews. I made it ahead and froze it in four portions (instead of five) based on the comments here. It was easy to make and when we wanted pizza, all we had to do was defrost some dough.

The dough was easy to stretch with rests in between. I couldn't quite master the back-handed stretch so I just used my thumbs and moved around the edges.

I thought the sauce was really good but the recipe calls for a little too much fresh garlic. I used four cloves and even that seemed like a little too much since it is pretty much raw.

I was impatient and sliced the pizza quickly. It should have rested for a while. Because I divided the dough into larger portions this was definitely not an individual pizza.
(edited 16th January 2011) (0) comment (1) useful
This was the first recipe I made out of this cookbook. I thought the dough was very easy to make and it came together beautifully with such little effort. I really like the stretch and fold techniques and the convenience of overnight fermentation. My troubles came when it came time to stretch the dough out for baking. I had divided the dough into 5 sections as directed but had a very difficult time stretching it out without it tearing. I ended up combining 2 dough balls into one, which while still tasty, was a bit chewy for my tastes. Next time, I will follow the advice of some of the other reviewers and divide the dough into 4 portions instead of 5. However, I believe this will be my standard pizza dough recipe from now on.
(edited 9th October 2012) (0) comment (1) useful
I think it would be accurate to say that Peter Reinhart knows something about good pizza. He has written a whole book on the subject.

I have tried all four of the pizza dough recipes in this cookbook, and each one is terrific. They all utilize the cold overnight fermentation to develop the flavors. Since we love pizza, I mixed up several batches of dough and froze in freezer bags. As long as I remembered to pull out a bag of dough the day before, we enjoyed some wonderful for pizza with very little preparation.

The Neo-Neopolitian dough was the easiest to work with. It was very stretchy with lots of good gluten development. I am not good at pizza tossing but even I could get a good stretch with this dough.

A great recipe and one that is sure to be repeated at our house!

This is an excellent pizza dough recipe. Probably my favorite. It is very similar to some mentioned in Peter's Pizza book, but enhanced.

I sectioned the pizza dough into 5 portions and somehow none of my portions were the recommended 227g. The portions being a little less than 227g made them very difficult to work with for the fairly new pizza tosser. I had to shape and reshape the dough 3 times (waiting 20 minutes in between each for the dough to rest) to get a pie that was not torn. What I did get was good practice!! It was nearly impossible to get something the size of 10-12 inches with 227g of dough. My end product was only about 8 inches. I would recommend portioning into 4 portions, so it is a little easier to work with.

I tried a number of different tests being I have 5 different pizzas to create. I tried with and without baking stone. The crust with a baking stone is SO much better. It is crisp and has a nice crunch. When I used a baking sheet the crust was very doughy and underdone.

Even though my end product was not 100% to my liking, I cannot fault the recipe. My difficulties included torn dough, cracked baking stone (which lead to baking sheet baking) and 1 pizza flop (an problem transfer to the pizza stone created something that looked more like a calzone, which lead me to buy a super peel). These were all my fault!

All in all, I love how thorough Peter is with directions and what you can and can't do with this recipe. I also enjoyed the taste of the pizza and the consistency of the crust. I will definitely make this again!

(edited 15th March 2010) (0) comment (2) useful
I tossed the dough recipe I've been using for years! This is my go to pizza dough recipe now. It's super easy to make and have on hand. I make pizza almost every week now. The gluten develops really nicely with the overnight fermentation and make the dough easy to stretch, even for a novice. This recipe got me curious so I checked out Peter's pizza book. Also fantastic. I recommend using this dough to make the folded greek salad pizza from the pizza book. I also made a lovely caramelized onion pizza with mushrooms and a potato/gruyere puree base. Every week is a new experience. The dough is perfect from the freezer. Just thaw in the fridge and take it out about 2 hours before you need it. The crushed tomato sauce following this recipe is excellent too.
I made this on Thursday night and divided it into (4) 12 oz. portions. I used (1) Friday - (1) Saturday - (1) Sunday & (1) Monday.

I was sure that Monday's would taste like cardboard. It was still soft and flavorful. While this recipe does not rise a lot; this dough is so soft, yummy and easy to work with. It makes the perfect pizza dough (I've been searching for quite sometime).

(edited 4th March 2010) (0) comment (0) useful
andrew from Vancouver Island, BC
This is a slight variation on the classic dough Peter introduced in American Pie. He has tweaked the amounts and the technique slightly, but it's still quite similar, and still produces what is my favourite pizza dough.

It is vitally important that you refrigerate this dough overnight (or even better, for two days). I made this in a rush a few weeks ago, and put half the batch in the fridge and made the other half immediately (after a 3 or 4 hour rise). So I got to taste the difference between aged and unaged dough when I baked the first and then a few days later, the second batch of pizzas. It was remarkable how noticeable it was! The aged dough had real flavour, while the quick dough was more or less tasteless - just a delivery mechanism for toppings.

I also recommend using parchment paper to transfer to your baking stone. I've had too many accidents with sticking dough! Now I use parchment, it's easy every time - you can either remove the parchment halfway through the bake once the crust has firmed up, or just leave it - it browns but won't burn.
(edited 12th March 2010) (0) comment (1) useful
Login or register to add your own review of this recipe.