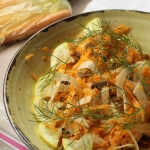 Carrot Salad with Fresh Fennel, Dried Figs, and Preserved Lemon
Page 199
Cuisine: Greek | Course Type: Salads

View photos
(1)
Tags: fennel fig challenge preserved lemon
Recipe Reviews
I found this an odd combination, shredded carrots with sliced fennel, dried figs, and preserved lemons, simply dressed with lemon juice and olive oil. I really liked the odd combination; DH was lukewarm about it.

- I made about a half recipe, which will serve four. The whole recipe should serve 6.

- I used store-bought preserved lemons since I had them to use up. I cut my slices into quarters (and took out the seeds) and laid them around the edge for serving.
Shredded carrots, thinly sliced fennel, and dry figs make up the bulk of this salad. It is dressed simply - with just lemon juice - and is to be accompanied with slices of preserved lemon.

I prepared the preserved lemon as instructed in this book. They were not as nasty as the ones I've purchased, but still not great.

I really liked the fig-carrot combination. But probably this won't be prepared again.
Login or register to add your own review of this recipe.