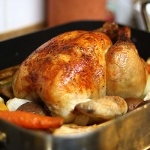 Whole Roasted Chicken on a Bed of Root Vegetables
Page 22
Cuisine: North American | Course Type: Main Courses

View photos
(7)
Tags:
Recipe Reviews
This is another excellent recipe from this cookbook. I am not really sure what made this stand out for me since it uses many of the same ingredients as the other roast chicken recipes I use- like Ina Garten's, but this is just that much better. I loved that the chicken cooked over vegetables. I didn't find them to be too greasy and also thought they weren't fully cooked in the time specified so I had to remove the chicken and let them cook a little longer.

While this just might become my go-to roast chicken recipe from now on, I am not giving up on Ina just yet and will probably use the leftover roasted vegetables to make her Roasted Vegetable Soup.

http://www.foodnetwork.com/recipes/ina-garten/roasted-vegetable-soup-recipe2/index.html
(edited 23rd October 2010) (0) comment (0) useful
Hmmm.

This taught me the trick to that perfect roasted skin!!!

Pretty good. chicken was great.

But.....

Well, he nailed grandmas cooking, but this isn't gourmet the way I hoped. Other recipes are incredible, but this is easy comfort food. This recipe just wasn't enough. YES I wil make it again as a easy family meal, but not as a wow dish.

As a side note cut the vegetables as meat portion would need. Cut your veggies by 1/4 or 1/3.


Ok......
I have roasted chicken many times before and never really had a recipe that produced good, consistent results. This recipe will be the one I go back to over and over again. Once again, Chef Keller's extra steps are for good reason. For example, leaving the chicken uncovered in the fridge for 2 days to dry out and roasting at 475 for the first 25 minutes are 2 tricks to perfectly crispy skin. Trussing and letting the chicken come to room temperature for 2 hours before cooking are 2 more excellent steps. I also like the recipe includes to cook the chicken to 160 degrees because I only had a 3.5 lb chicken, so I made sure to check its' temperature well prior to the suggested secondary cooking time of 45 minutes. I overcooked it a tad at 30 minutes. Next time I will make sure to check even sooner.

The skin was to die for and the chicken underneath was delicious. It was moist, succulent, tasty and juicy all at the same time. I wish I would have roasted it over the bed of root vegetables because there was a giant puddle of butter and fat that would have been a perfect seasoning.

I have been using Keller's method for roasting chicken (Bouchon) for a long time and so it was a natural to try it with the root vegetables. I did, however, omit some of the oil and most of the butter and trim excess fat from the chicken. I think that had I not done this, I would, like reviewer Andrew, have been unhappy with the fat which would have soaked into the vegetables.
This is one of the best roast chickens my husband and I have ever made--and one of the simplest recipes we've ever used! We put a 4 pound chicken in our le creuset pan on top of carrots, onion, and red potatoes (we didn't have the rest of the root vegetables). When the chicken came out, the meat was extremely tender and juicy. The potatoes were soft, the carrots still had some crunch, and the onions had caramelized. The meal was wonderful!

There weren't a lot of drippings in the pan with this recipe, but I was able to make a simple gravy with the drippings and it was very flavorful. We had some chicken left from this meal and the leftovers were great.
This was actually the first recipe I made from Ad Hoc. I followed the pictures and instructions beside the recipe for trussing the chicken and they were incredibly helpful. The dish is delicious! I really love roasting smaller chickens. I was a little confused about how the leeks were actually supposed to be cut, but other than that the recipe was clear and straightforward. I loved the variety of vegetables roasted along with the chicken. The rutabagas and turnips added an extra dimension of flavor.
I cannot stress enough the importance of quality ingredients. I used Mary's Organic chicken - no water added, air chilled, no preservatives, no antibiotics and free range. Chicken was juicy, tasty and had the perfect crispy skin. I left the chicken in the refrigerator uncovered from moring untill evening and left it at room temperature for 1 1/2 hours. The potatoes, leeks and rutabagas were perfect but the other vegetables were a bit too soft for my taste. Although this wasn't a huge departure from my chicken recipe the tips to leave it uncovered in the refrigerator, leaving it at room temperature for 1 1/2 - 2 hours (I usually leave it out for 30 minutes) and the butter over the chicken breast ( I ususally tuck it inside the skin) made this a very good recipe.
andrew from Vancouver Island, BC
Unlike many of the other recipes in this book, this one didn't involve extra steps beyond how I'd normally roast a chicken. It really is fairly simple, and the result was very good, with one caveat. So, with something like chicken (and this is how you can tell a chef by the quality of their chicken), what brings it to a high level is the quality of the bird itself, the preparation and the roasting.

I used a hormone and antibiotic-free, free-range chicken, and let it rest at room temperature for a couple of hours as he suggests. I took it out of the oven just as it hit 160 degrees F at the thigh (make sure you start checking early - last time I made this I checked 30 minutes after I turned the heat down and it was already over 160) and let it rest for 20 minutes, also part of the recipe. This resulted in a particularly juicy bird (so often people overcook and dry them out, worried about not getting them hot enough).

My caveat is the roast vegetables; they ended up soaking in about an inch of chicken fat, butter and canola oil, and some of them were less roasted than a sort of confit. Also roasted leeks didn't really work for me. Now, I might have had a particularly fatty chicken. In future I'll check earlier and drain off much of the fat - not that I'm against chicken fat, but that I like roast veggies to be fairly dry.

I will do it again though, it was quite tasty, and crucially, provided leftovers for a wonderful pot pie (page 24).
(edited 15th November 2010) (0) comment (3) useful
Login or register to add your own review of this recipe.